Stance Socks Review: How Stance Became the Hottest Sock Brand in the World!
Amongst lovers of Stance, The Uncommon Thread represents a virtually unspoken sense of cool.
The brand is a dizzying mashup of music, art, poetry and sport-inspired design, splashed onto canvases of supima cotton, merino wool and cashmere.
Collaborations with Rihanna and a roster of creatives the company calls its 'Punks and Poets' have rocketed Stance into the mainstream, with designs ranging from Beavis and Butthead, to tranquil palm trees.
Stance socks are Run-D.M.C on a skate holiday to the Moon, with Tony Hawk, Barack Obama, Lady Gaga and Ernest Hemingway at the after-party in Hawaii. They're pretty creative.
Stance gets a shout-out on Jay-Z's track F.U.T.W, and in 2015, was named as the official sock of the NBA – the only brand in the sport's history to be allowed to stamp its logo on-court. That's something even Nike isn't allowed to do.
Get Yourself or Someone You Love a Piece of Stance
If you're already feeling like you want a piece of Stance, we don't blame you. Here are five of our favorite summer styles to get you in the mood.
Channel your 1970s beach hut relaxation vibe with this timeless, California-inspired design. The vinyl's crackling, the surf is good, and with these lovelies on your feet, you ain't got a care in the world.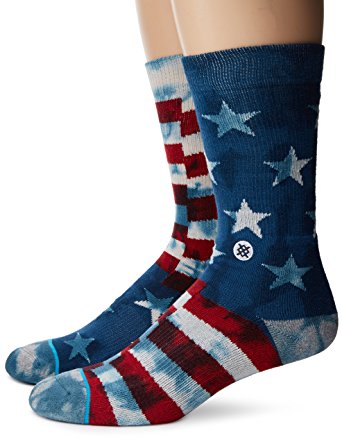 A real American hero, the Banner Crew is one of Stance's flagship designs. Wear 'em high and wear 'em proud, whether you're a fledgling patriot or a seasoned vet. Wherever you go, America walks with you.
For the most subtle slide into summer, try Go Fish, a tasty and tasteful pair featuring a rather fresh-looking couple of Japanese fish. Become one with nature.
When surf is life, you need socks to express how seriously dedicated you are to the swell. Subtle design, understated color, but threaded with a heart which longs for the ocean, Surfin' Monkey is for the surfers.
Ultra cute and just as functional, find ways to put your feet up so that you can show off the gently undulating waves of the Stance Mochi Super Invisible. Low-slung, low-key style, with unmatched attention to detail.
What and Who Are Stance?
Founded in California in 2009, Stance have quickly become one of the hottest clothing brands in the world. They make socks, and more recently, underwear. The range appears to grow on a weekly basis, with designs for dressy occasions, motocross, golf, running and even Star Wars fans.
Throw into the mix a head-spinning array of designs from some of the NBA's top ballers, and you've got a recipe for success that makes you feel like taking a lie down to recover.
Since 2009, Stance have sold more than 15 million pairs of socks, and in March, the Wall Street Journal reported that the company had raised a whopping $50 million in venture capital, for its expansion plans into fashion and performance underwear.
It gets better. In 2015, the National Basketball Association announced that Stance would be not only the official on-court sock of the NBA, but that they'd also be allowed to display their logo on licensed equipment – a privilege not even granted to the likes of Nike and Adidas.
Why Do People Love Them?

They're just so damn cool. What's not cool, is defining yourself according to socks, but when the situation demands a sock game that's strong beyond any doubt, the options from Stance are outstanding.
Palm trees, the American flag, skulls, roses, snakes, Chewbacca, the Notorious B.I.G and a plethora of funky patterns and colours, if you can't find a pair of Stance that suits, whatever you're doing isn't worth going to.
Rihanna, Beavis and Butthead, Harley Davidson and Dwayne Wade – not to mention a spattering of other NBA legends – have lent their creative input to Stance over the past couple of years, turning Stance into one of the most sought-after new brands on the planet.
The Future of Stance
On top of the $50 million raised in venture capital to assist in the brand's expansion, Stance socks are now sold in over 40 countries worldwide, and with their NBA deal set to take off this year and into next, the company shows no signs of slowing its rapid growth anytime soon.